about the act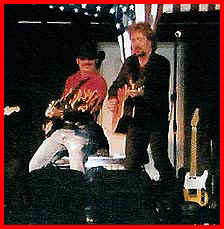 paying tribute to Country Music's all-time greatest duo...

Ronnie Lee & Joey "Kix" Hart take great pride in faithfully performing all the Brooks & Dunn hits, and delivering a quality show that combines this great music with the showmanship, excitement, rowdy honky-tonk style, and - yes, a sense of humor - that have all become B&D trademarks.
Borderline is based in the Nashville, Tennessee area, and is a project that is very close to the hearts of the two guys up front.
Ronnie and Joey have been close friends for several years, playing in bands together and covering a fair share of material from their favorite Country duo. "I always considered it a huge compliment when folks would compare my voice to Ronnie Dunn's," confesses Ronnie Lee. "Brooks & Dunn have been my favorite Country act since their first album, and I've bought every CD as soon as they were released...I've made it a habit to learn every single they came out with, because it's great music and always felt comfortable for me. Ronnie is one of the best singers ever, and singing his parts is a big challenge, but I sure enjoy it."
Joey is getting a Kick out of playing Kix, emulating the high-energy stage performance that Brooks is well known for. "I've always loved to put on a show", he says. "One night Ronnie and I were working in this club...he was singing "Boot Scootin' Boogie" and I was running around like crazy in this shirt with flames on it, and we both kinda looked at each other and smiled. We decided we'd like to focus on doing this Tribute act, and it's turning out to be more fun than we could've imagined."

Being based in the Nashville area has many advantages, not the least of which is the ability to work with the best musicians. In addition to Ronnie & Joey, the band instrumentation includes a lead guitarist, steel guitarist, keyboardist, bassist, drummer, and fiddle player, all of whom are seasoned veterans of the Music City scene.
The act is totally self-contained with their own touring vehicle, equipment trailer, and professional sound and lights.